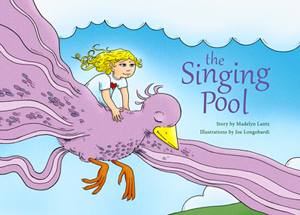 The Singing Pool
When Wendy moves to a new neighborhood, she faces religious intolerance and isolation. In her dreams she finds her inner voice, restoring her sense of purpose and belonging. A coming of age story about overcoming prejudice, self doubt, and finding inner peace and strength.
Written by Madelyn Lantz and Illustrated by Joe Longobardi, the story for The Singing Pool came about while Madelyn was working on her Master's Degree at Lesley University in Cambridge, Massachusetts. The story was inspired by her drawing of a bird being born with angel wings near a waterfall. Madelyn explains:
"A few days after drawing this image, I wrote a story based on an inspiring vision of a healing pool containing creative water. This story expressed traumatic events from my childhood. These events were an ongoing occurrence in first grade where I was exposed to intolerance towards my Jewish faith, and have dominated my life with an underlying current of anxiety, fear, self doubt, self pity, and denial of my heritage and culture."
Today Madelyn holds an MA degree in Expressive Art Therapy and is a Licensed Professional Counselor working with children and adults using the expressive arts modalities.
The Singing Pool is a uniquely sophisticated children's book for ages ranging 8 years to adult.
Release date for The Singing Pool is September 27, 2017. The Singing Pool is published through the imprint Singing Bird Books. The book is available through Createspace and Amazon.
ISBN-13: 978-0998690605 ISBN-10: 0998690600