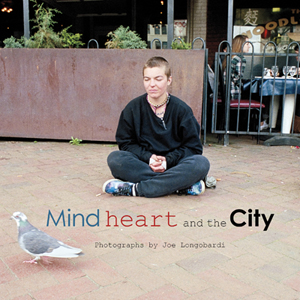 Mind heart and the City
ISBN 978-0-9986906-1-2
"You are a photo cowboy, on the trail or the streets; seeing and shooting and loving it."
~ Andrea Clark, photographer and author of East End Asheville Photographs Circa 1968.
Mind heart and the City documents downtown Asheville's most recent iteration of gentrification as it strives to maintain the diversity of its bohemian mountain culture. The images reveal a people and culture experiencing a paradigm shift as it transitions into the new millennium. The images in the book were captured completely on film, shot over a ten year period. Although the use of film is not the main focus the project, the intent was to rediscover the 20th century humanist approach to street photography via the utilization of old manual film cameras to explore and document city life.
The book features images that are part of an exhibition also entitled Mind heart and the City that will take place in Knoxville, TN in 2018. The show will run from April 6 to April 27, 2018 at the Emporium Center Gallery, 100 S. Gay Street, Knoxville, TN 37902. An opening reception will be held on Friday, April 6, 2018
Order books via this link. Books are Print On Demand, and printed on order.
Watch the video on YouTube for more information and updates.